AOC Bordeaux and Bordeaux Supérieur get a facelift and present you their new advertising campaign! 
In mind of family of the CIVB, this campaign aims to be resolutely modern and fashionable! Innovative and more current, it joins in a dynamics of valuation of the AOC.
7 AOC, for one unique campaign
They are not less than 7 naming Bordeaux Blanc, Bordeaux Supérieur Blanc, Bordeaux Rosé, Bordeaux Clairet ) .A fresh and proactive campaign which shows of the diversity of these AOC.
7 universes which symbolize the whole vineyard of Bordeaux and Bordeaux Supérieur.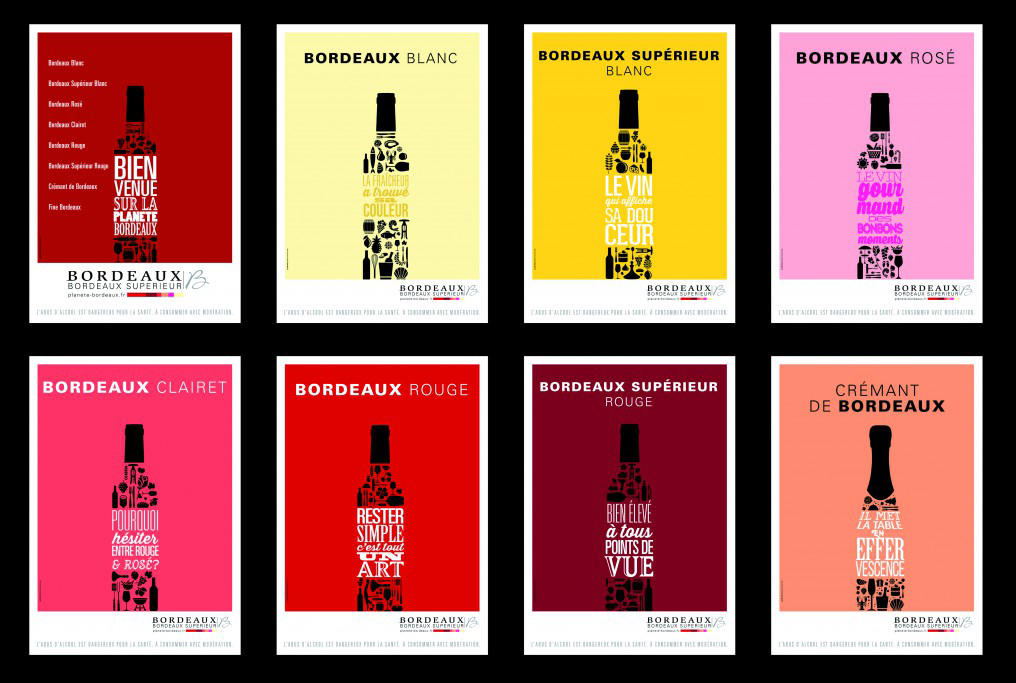 Punchy taglines for Bordeaux wines freed from complexes!
Bordeaux Blanc: Freshness has found its colour
Bordeaux Supérieur Blanc: Not dry, nor liquorous, just sweet
Bordeaux Rosé: A fruity wine for a tasty wine
Bordeaux Clairet: Why hesitate between a red and a rosé?
Bordeaux Rouge: Simplicity in a bottle
Bordeaux Supérieur Rouge: A fine wine for a superior time
Crémant de Bordeaux: The wine with a sparkle
Sharing and diversity accompanied with a note of humor: here is the new line of conduct of the AOC Bordeaux and Bordeaux Supérieur. This original campaign declines all the colors of wines and expresses a new more relaxed and uninhibited vision of the consumer of wine, greenhorn or amateur.
From a glass or bottle?
With the declension of the versions "bottles", naming take on their sobriety. Dressed in their slogan: everything is said! The pictures version "glasses" are more "informal" evoking the user-conviviality and sharing. They call on the imagination of consumption.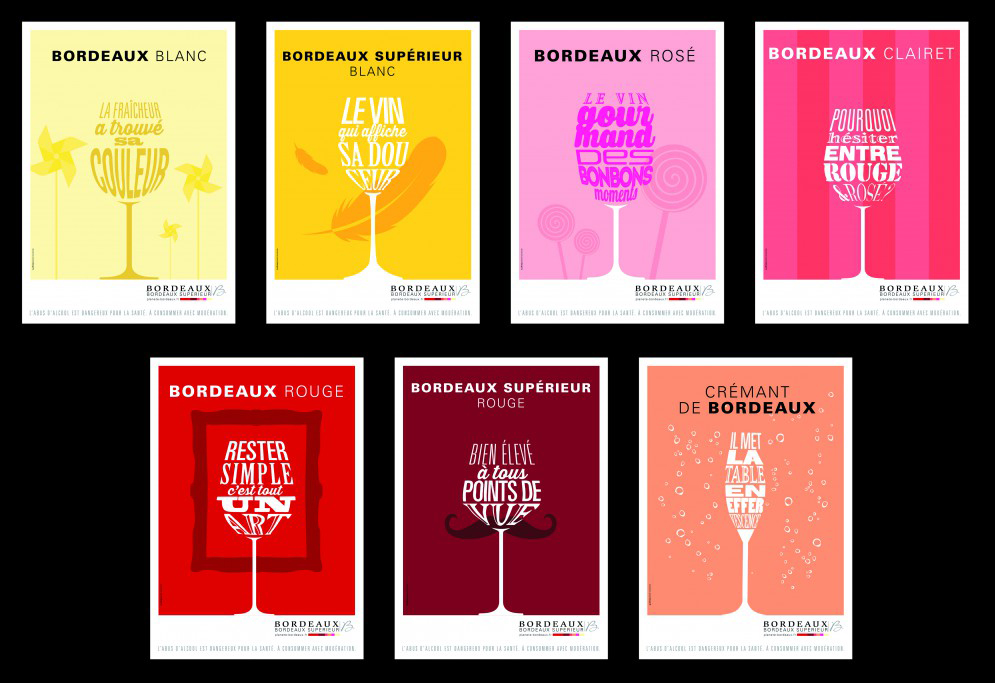 A new website for a digital Planet!
In 2016, the communication owes to be 360 °! Planet Bordeaux adorns itself with a quite new web site (on-line publishing in July). Ergonomic, responsive, purified and colored.
www.planete-bordeaux.fr, the site shop window of the AOC Bordeaux and Bordeaux Supérieur, of their countries, their actors. 
Hervé GRANDEAU, president of Planet Bordeaux from 2013 to 2016: "This campaign announces loud and clear that the vineyard of Bordeaux has to count with naming Bordeaux and Bordeaux Supérieur! Let us dare a vision more innovative and adapted by the vine growing of today and of tomorrow."