Our tasting classes are back ! Since October 2016 we have for you a brand new themed tasting class… in the comfort of your very home!
For a night in with your friends or family or a nice meal, special occasion or just for fun, Planete Bordeaux have just the thing for you ! Instead of you coming to us, we come to you for a two hour tasting class at your home.
Emmanuel, our œnologue,  wine lover and epecurien will come to you anywhere in Gironde. Don't move a muscle, we will bring everything : cork screw, bottles , glasses , drop stops.. You just sit back, relax and learn a whole lot about Bordeaux wines.
To vary the tasting we offer you a choice of six themes for your tasting. Just let us know which one you would like to discover:
Initiation à la dégustation: Discover our 7 appellations

Summer Bordeaux: white, rosé, clairet or Crémant de Bordeaux… which wine will be your summer love?

Festive Bordeaux: Sweet, liquorous, Crémant de Bordeaux…you choose the party Bordeaux.

Wine and food pairing ( extra 9 euros per person): Emmanuel will take you through a journey of wine and food pairing, such as with cheese and even chocolate.

Bordeaux Rouge & Bordeaux Supérieur Rouge : Fruity, spicy, woody, the diversity of these wines are incredible!

Bordeaux yet to be discovered: Learn to find great quality for money wines in your local supermarket!
 Conditions:
5 to 15 people,
In the evenings in the whole of Gironde,
the class will last 1 and half to two hours.
For more information and reservations, talk to Claire via mail or telephone 05.57.97.19.22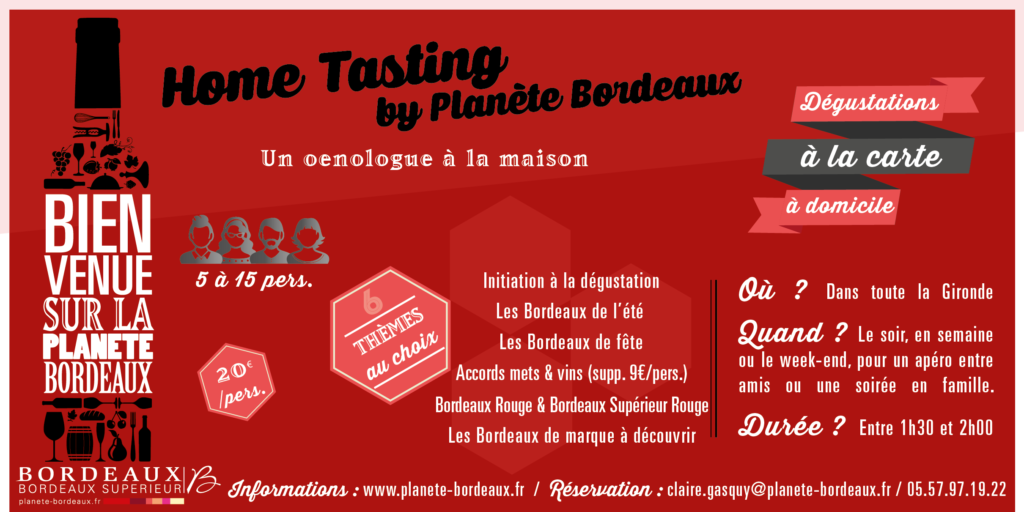 Enregistrer
Enregistrer
Enregistrer
Enregistrer
Enregistrer