Anne Lataillade, a famous blogger from Papilles et Pupilles, met Nathalie Escudero and Jérôme Depoizier, a couple of new wine-growers (2011).


Nathalie Escudéro and Jérôme Depoizier met in the faculty of the Bordeaux School of Oenology. Jérôme has been living in the world of wines ever since he was a child but Nathalie is a literary person and studied art history before working as an interpreter and guide. They both are new wine-growers (they settled in 2011), let's meet them !
Anne
Nathalie, why did you choose to work in the wine industry?
When you are a guide in Bordeaux, you're bound to talk about wine; I wanted to learn more about it. I was delivered a certification by the CIVB to be an accredited tutor there, but it was still not enough. So I went to the School of Oenology. I met Jérôme; we were both from the right bank, it brought us together.
How did you get here, at Château Boutinet ?
We really wanted to work together in the wine business and it took us 2 years to find a château to buy. With our limited means but high requirements, we had no matches. And one day, in 2011, we came here and fell in love. We immediatly saw the potential of this location, in terms of terroir and winetourism.
What was the signature of this château?
It was a crumbling building, nobody was living there but the vineyard was well-tended. The former owners used to sell the harvest to a cooperative. Today, we sell to a cooperative but we also sell directly to our customers.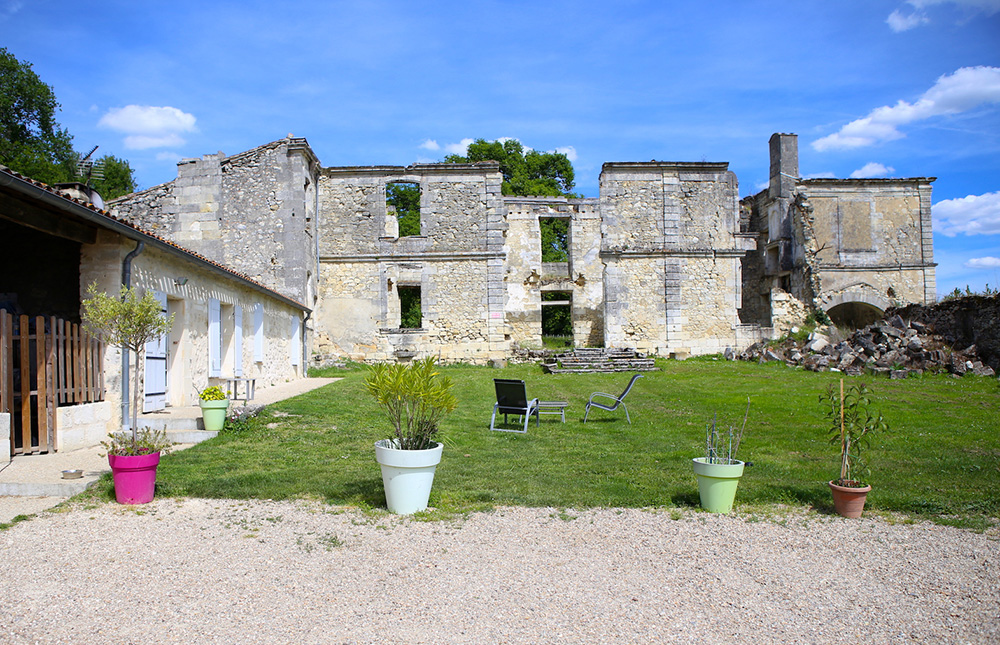 You told me it's a 23-hectare property including 10 of vines, are you fulltime wine-growers?
No, we aren't. Jérôme is a fulltime wine provider and do some property management on the side. I spend 80% of my time on the property.
How many bottles do you produce?
About 8.000. We produce 3 wines: a clairet, a light red (a "friend wine", Château Boutinet) and a more complex red wine, Thalie de Boutinet, aged in oak barrel. They did not sell bottles before so there was no pressure and we decided to produce wines we want to drink.
Why did you choose to produce clairet?  (Please note that their Bordeaux clairet was awarded Oscar des Bordeaux de l'Eté 2017)

Because we love clairet! ☺ And because it's a typical product from Bordeaux, too. We made it a traditionnal way : to produce our clairet, we harvest the grape seeds to their optimum maturity, they have a little higher acidity. We get a wine which is well structured on the palate.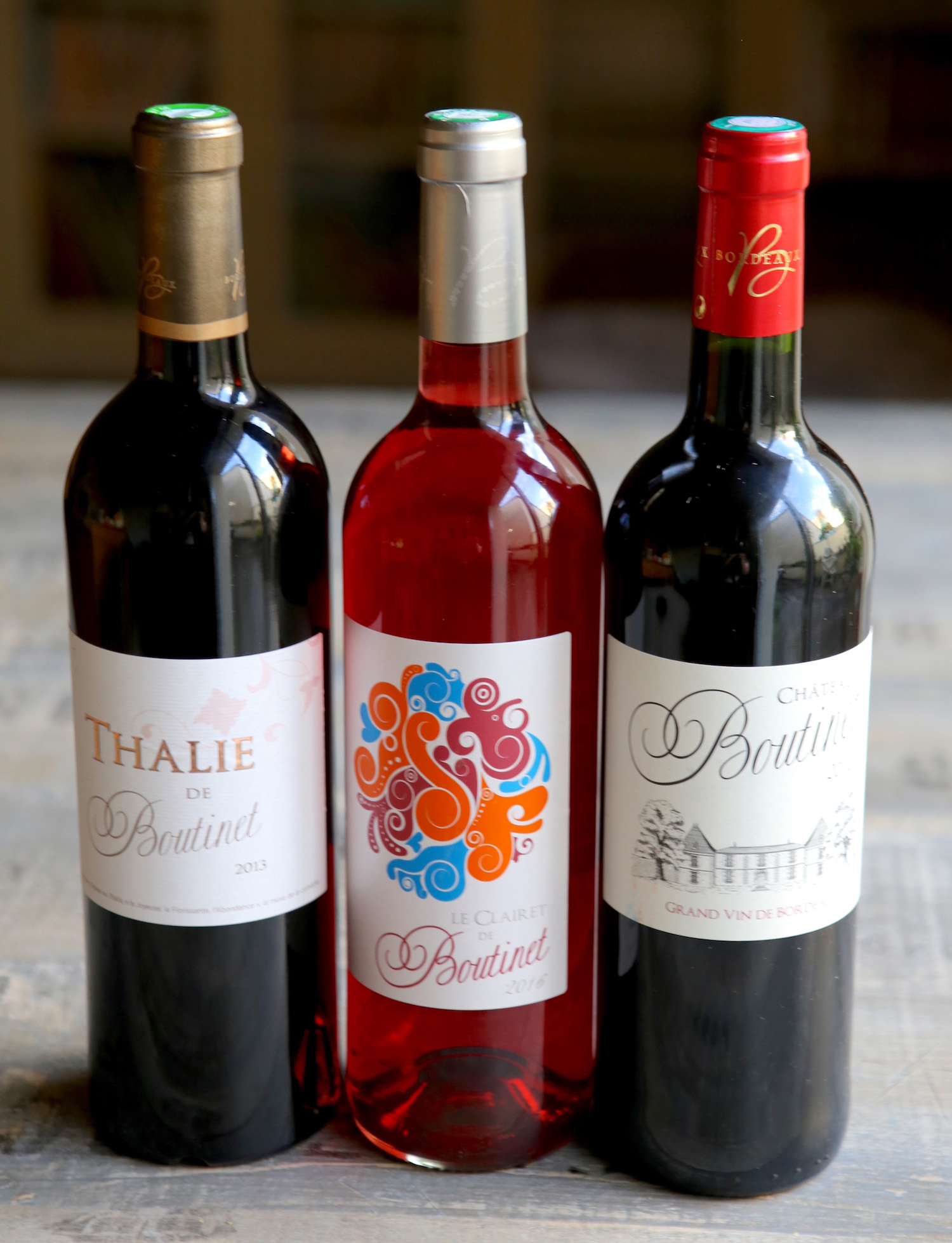 You emphasized winetourism, why?
Thanks to my previous work in the tourism industry, I knew what people loved and hated. We needed to find an idea to bring the tourists to Villegouge, but one which reflected us: simple, friendly and focused on our wines. And so the hiking and tapas concept was born.
What does it consist in?

It's a walk along the vines and the surrounding slopes. People can learn about biodiversity, sustained vineyard management and the history of the Bordeaux vineyards. We end the tour by eating some tapas and Jérôme does his grilling on the plancha.
We really aim at making people feel at home and they love that. In 2016, we welcomed more than 2.000 persons.
Do you have any other project for the future? 

Yes, we are converting to organic production because we plan to settle biodynamic culture. Our land presents itself. And our tasting room is almost finished. It is unique, it's a yurt, right in the middle of the vines!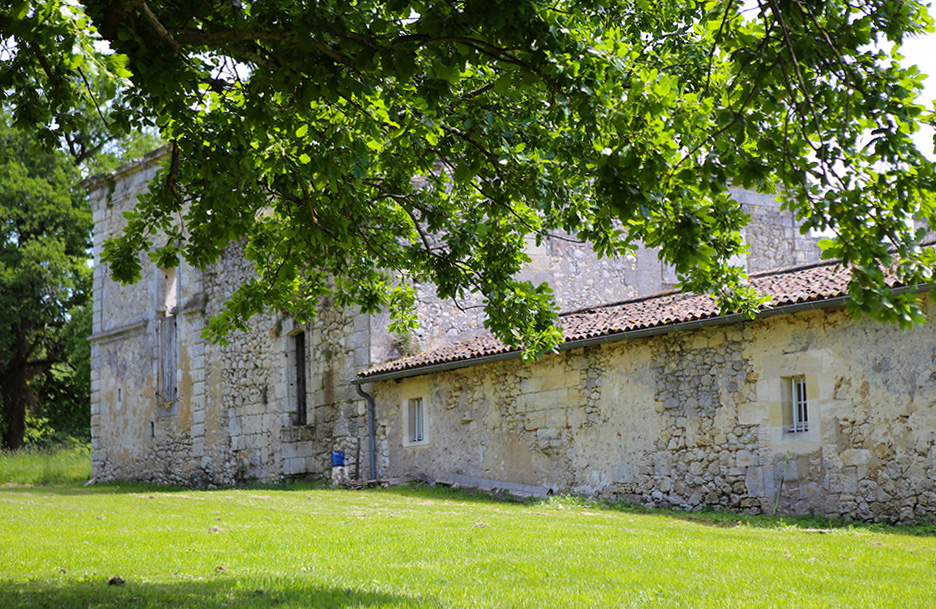 Tit for tat…
Red or white?

Nathalie : It depends on what you are eating with
Jérôme : Red
Clairet or rosé?

Both : Clairet!
Girondins (soccer team) or UBB (rugby team)?
Jérôme : UBB
Nathalie : Girondins ! My son plays soccer.
La Machine à Lire ou Mollat (two famous bookstores in Bordeaux)?
Mollat! By the way, we had the chance to have a dinner in the bookshop during the Bordeaux So Good festival, it was amazing!
Arcachon or Cap Ferret?

Nathalie : Cap Ferret.
Jérôme : Carcans.
Facebook or Twitter?

Facebook! And Instagram, too. When you know how to use it, it's a great communication tool.
To conclude, a word which represents wine according to you?
Nathalie : Conviviality!
Jérôme : Pleasure!
Thanks Nathalie, thanks Jérôme!
Château Boutinet – 33141 VillegougeEnregistrer
Enregistrer
Enregistrer
Enregistrer
Enregistrer