Anne Lataillade, famous blogger from Papilles et Pupilles, takes us to find out a little bit more about Cécile Thirouin and Thierry de Taffin at the Château l'Insoumise.

"They have been married for nearly ten years and at the Château de l'Insoumise. The cuvée Prestige 2014 from this young couple, living in Saint André de Cubzac was awarded "Talent de Bordeaux" 2016.", Anne.
Hello Cécile, Hello Thierry, so how did you both become such young winemakers?
– Cecile: I come from a family of farmers and have always worked outside since I was a little girl. If I am in the wine world today, it's thanks to my passion and love for wine. I love the fact that you start from scratch with just a grape and go right through until the selling of the bottles. It's such an interesting transformation. I met Thierry at school where we were studying oenology for our DNO (diploma of oenology). After doing winemaking for two years at Rivesaltes, we decided to move in together.
– Thierry: My grandparents were also wine makers in the Fronsac area and my two uncles still are.
How did you choose the property?
– Thierry: In 2007, we visited over 30 properties. At the start, we wished for a place in Saint Emilion with a couple of hectares, this would have let us worked nearby. Then we visited the Château l'Insoumise and we fell in love with it. The buildings had been redone and the working materiel was in really good condition. Of course, there was work to do in the vineyard, and developing sales, but this seemed like a great opportunity for us.
– Cécile: Yes, and after tasting the wine, we realised that we loved the terroir too. And to top it off, we could make the wine, and stay on the very farm.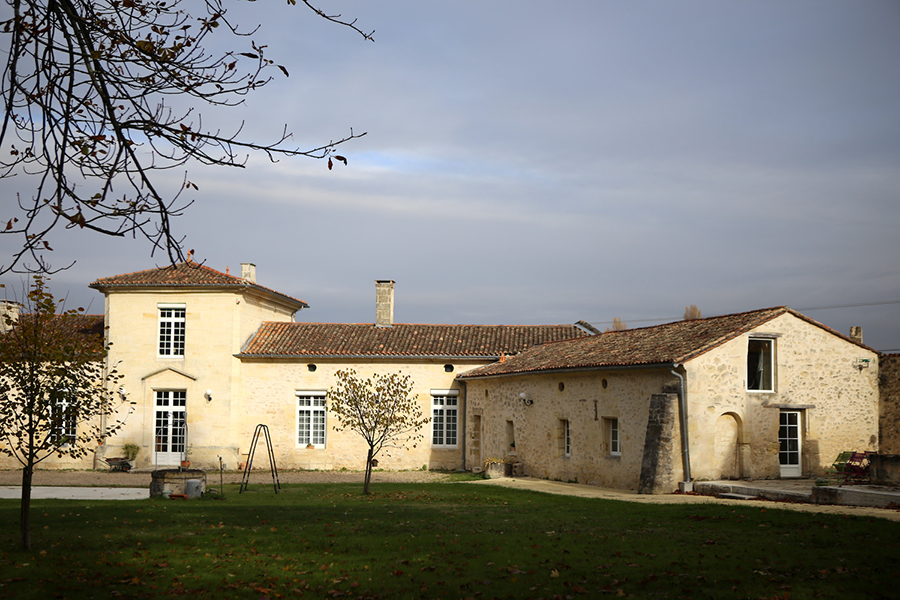 How many hectares are there?
– Thierry: 27 hectares in one single piece, situated around the property. It used to be only red but we have now planted one hectare of white Sauvignon. The terroir varies: clay and limestone on the hills and clay lower down with some sandy parts. This variety of soil is what makes our wine so complex.   
Where does the name of the Château come from?
– Cecile: When we got the property, the name was already l'Insoumise, but was also known under the name of Domaine de Beychevelle. A trial took place in 2000 with the former owner and the Château de Beychevelle, in Saint Julien. Having lost this trail, the Château was then named l'Insoumise. We had to change the name of our vintages and bottles.
What do you have to offer?
– Thierry: We have two reds: The first one is Chai 45, rather fruity and also in white and rosé. This range is lovely and easy to drink. The second wine is our cuvee prestige. A more classic wine aged in oak barrels. Our wines can be consumed quite young thanks to the soft tannins but you may also keep them up to ten years. We do have a few bottles that we experiment with.
Why did you call the wine Chai 45?
– Cécile : Because we are on the 45th parallel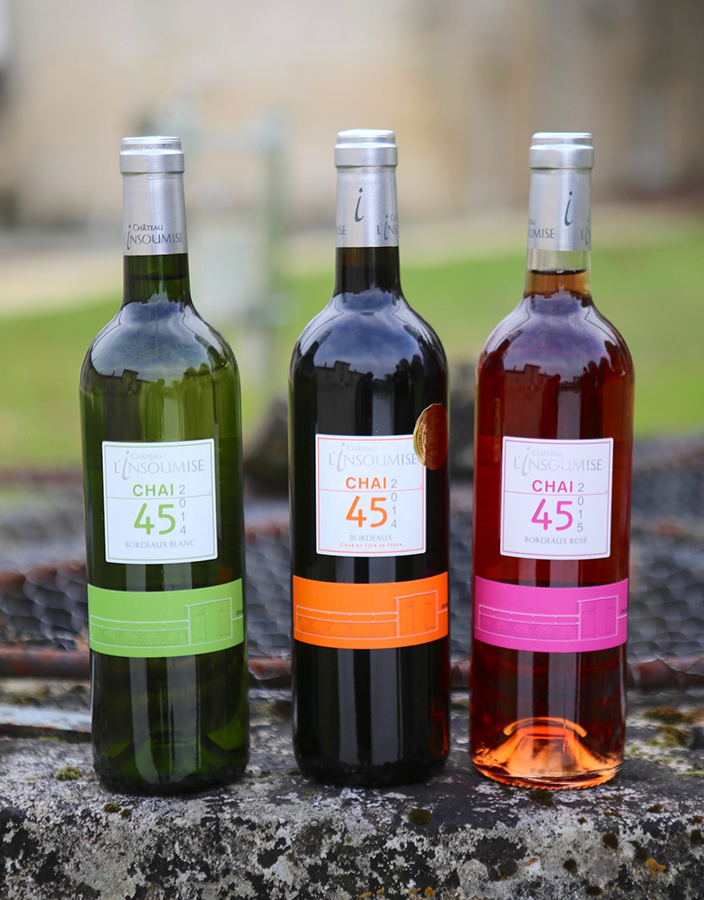 Is it easy to make a living being young winemakers?
– Cécile : Yes, but you must never count how many hours you put in. You need to be really passionate and give it your best. There isn't just the outdoor work, but also paperwork and lots of other parts like events and shows. We have created our own B&B at the property since 2009, so yes, we keep busy.
A gite ?
– Cécile : Yes, we run it all year but mostly from April to October. We are lucky to be in a central region where tourists can visit Saint Emilion, Bordeaux and even go to the coast. This is a plus when making new customers.
Is it hard working as a couple?
– Cécile : When we first started, we were always together but we soon realised that it didn't really work. So we each set our own tasks. Thierry in the vineyard and chai and myself in the office doing paperwork, in the chai, selling. I would say we are complementary.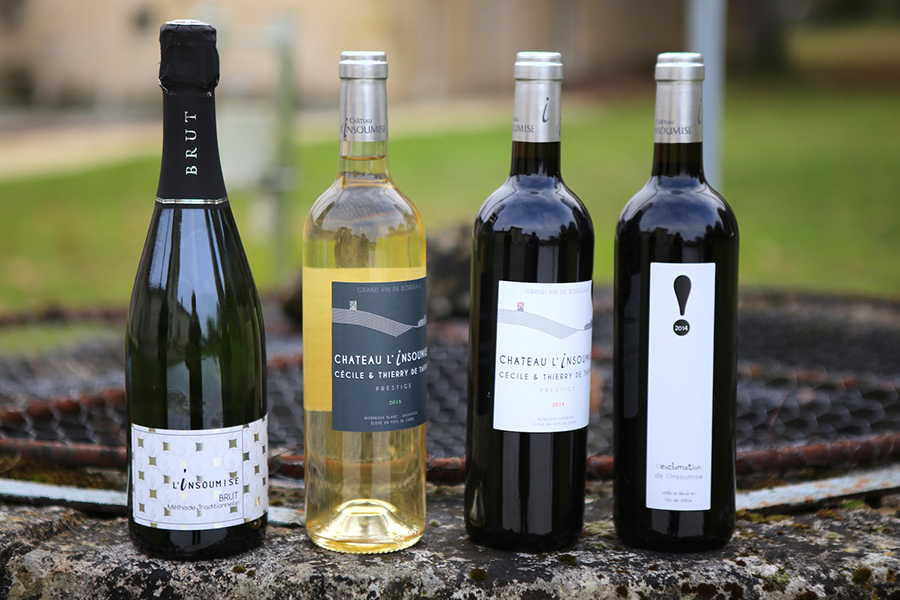 Their portrait in a few questions:
Red or white: Both together: red !
Corks or screw lids: 
– Cécile: Corks. We have been tempted by the screw lids for the white and the rosé but our customers aren't ready for that change yet.
– Thierry: Cork too. I can't really get used to the screw lids, I like to hear the "pop" when you open a bottle.
Arcachon or Cap Ferret : 
– Cécile : Biscarosse 
– Thierry : Cap Ferret
Cannelés or macarons from St Emilion : Both together : cannelés !
Facebook or Twitter: 
– Cécile : Facebook.  We have our own page : but we still have some getting used to it
A wineword : Conviviality !