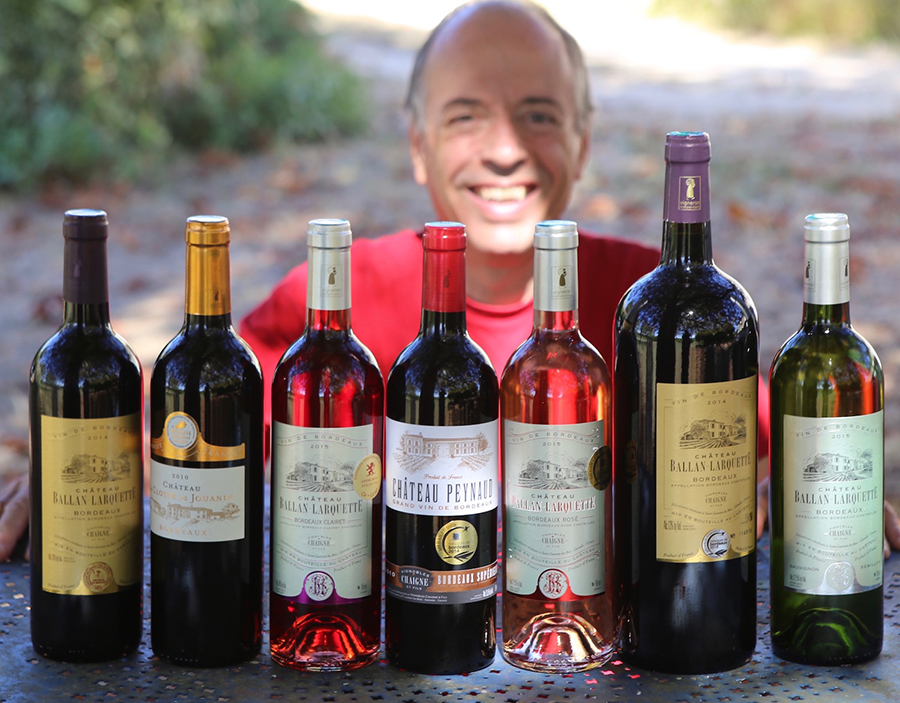 Régis Chaigne – Vignobles Chaigne & Fils
« For 5 or 6 generations, Regis Chaigne's family have been at the head of the Chaigne and fils vineyard. They have worked the lands of Saint Laurent du Bois in the Entre-deux-Mers. At first dedicated to the mixed farming and to breeding, the family property was transformed in the 70's with the plantation of high and wide vines, intended for the production of red wine. »,  Anne.
Régis, did you wish to take over the property?
Not at all. I did engineer's training course to the École Centrale of Lyon and started my career at Merlin Gerin, today Schneider Electric. At the end of the 80's, my father wished to retire and I said to myself that it was a pity to sell the property. I thus left my job, followed an administrator's Master's degree of Agricultural Domain in the ENITA and, in 1992, I joined to my parents property.
Have you ever regretted the change?
No, even if it is not always easy. It's a solitary job, often alone geographically and professionally. If ever I want to see people, I have to move and the hardest thing to cope with is the increasing administrative complexity. We are managing a multinational business with a small team and find it stressful to keep up. .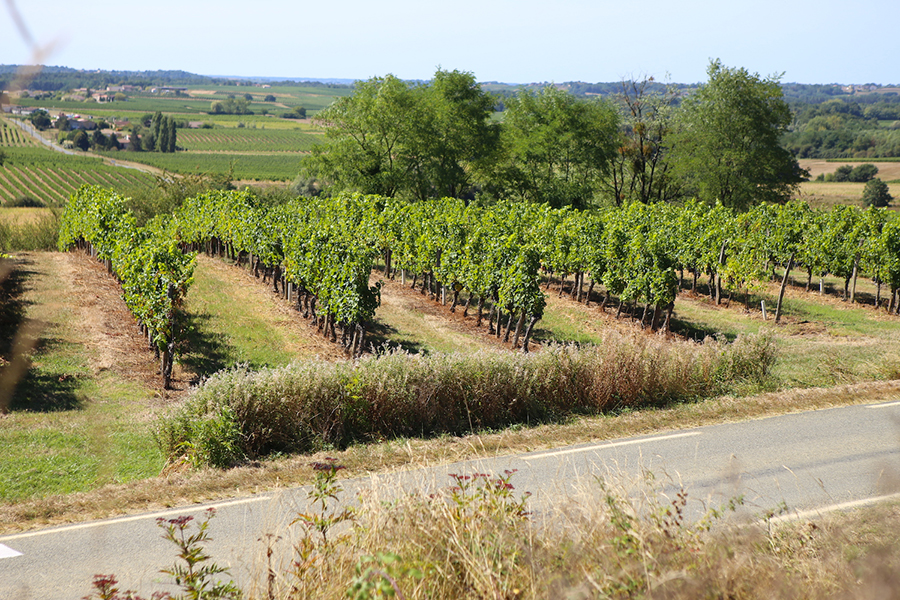 How big is the property today ?
Our property is rather big with 42 hectares in total (7 for white and the rest for producing red) and we sell about 300 000 bottles per year mainly exported to China and Japan. We have a team of nine people full time and it is real team work. Eléonore, my wife, works doing administrative jobs and preparing orders. Dominique Chaigne, my cousin, does marketing and sales, Stéphane Brouchian is head of the vineyard, Léo Guitton, cellar master and for the vine work, we have Guillaume Noblet, Ida Brouchichan, Denis Fontaniol and Maria Pereira. It is thanks to all that we are here today!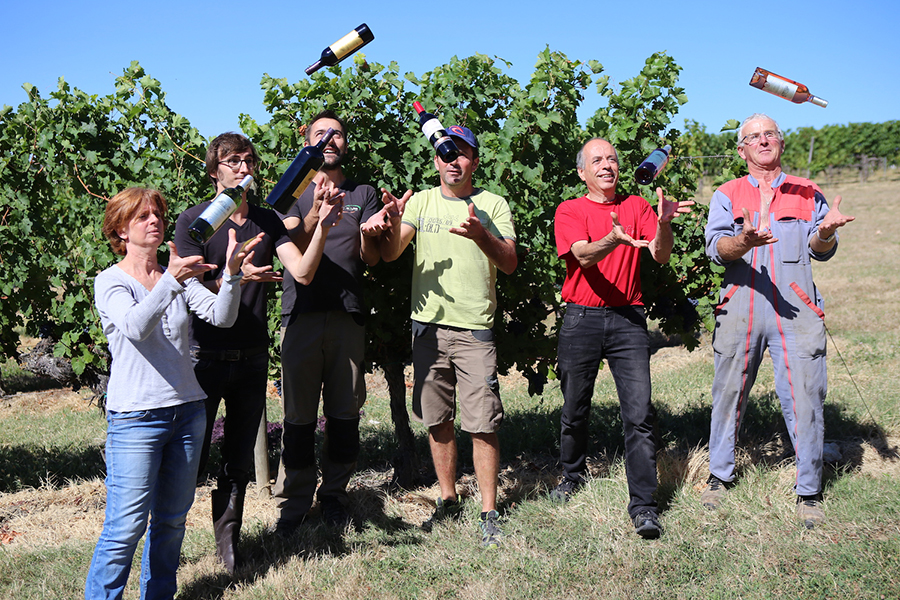 How would you describe your wines?
They are clear and precise, with a good keeping potential even if they can be consumed quickly. My wine is very fruity.
Régis, you are an amateur and defender of clairet, why ?
Because this appellation has a whole story and history, a great personality and goes well with any dish, even exotic dishes. It has a fabulous potential but it is such a shame that clairet doesn't sell as well as it should do.
You are one of the rare winemakers who use media and social media. Is there a reason for this?
Thanks to my technical training course, I have always been interested by computers. As soon as the Internet was created, I made my own e-mail address and created a web site for the Château (using Adobe Pagemill, for those who understand).
I then realised that you could do business with this new technology. Let me tell you about a story dating back to the 90's. I received an e-mail from an American man in Chicago who wrote that he had the chance to taste my wines in Kuala Lumpur and would like to buy in the USA. In those days, I had a distributor in Texas so I managed to sell this person three cases of wine. That was the very beginning of a whole adventure. Today, I use the Internet to sell my wine because it brings new contacts and these contacts then turn into customers.
As I was saying, I have virtual customers but also real via Vinocamps which is a great enriching way to meet new customers.
Regis' portrait in a few questions:
Red or white : White.
Clairet or rosé : Clairet of course !
Cork or screw lids: I have been using a new cork which isn't like the others, it's called a DIAM. You find the quality of a cork, just without any disadvantages.
Blend or Single variety: Blended wines. You lose all spirit when making a wine with just one variety. It's better to have a bit of imagination than to copy what everyone else does.
Bottle or bag in box : Bottles of course. With the wines that we make, it would be very hard to earn any money with bag in box. Moreover, I try to make very round wines and that wouldn't suit a square box.
V3 (public bikes you can rent for a few hours or days in Bordeaux) or tramway : Neither. But I have just started electric VTT. I use this to go through the vineyard to check the ripeness of the grapes.
Arcachon or Cap Ferret : Arcachon ! Cap Ferret has too many people for me and is a bit too far away. Though I do like the Dune du Pilat, it's nice being high up
Facebook or Twitter : Twitter.  You may find my page with this name :@rchbx.
A wine word : Two ! Share and pleasure.
Thank you so much,Régis !
Vignobles Chaigne et fils
Château Ballan Larquette – Saint Laurent du Bois
A retouver sur  Facebook et  Twitter