Anne Lataillade, a famous blogger from Papilles et Pupilles, met Céline Lannoye, from the Crémants Célène, who comes from Paris but really fell in love for Bordeaux and its wines.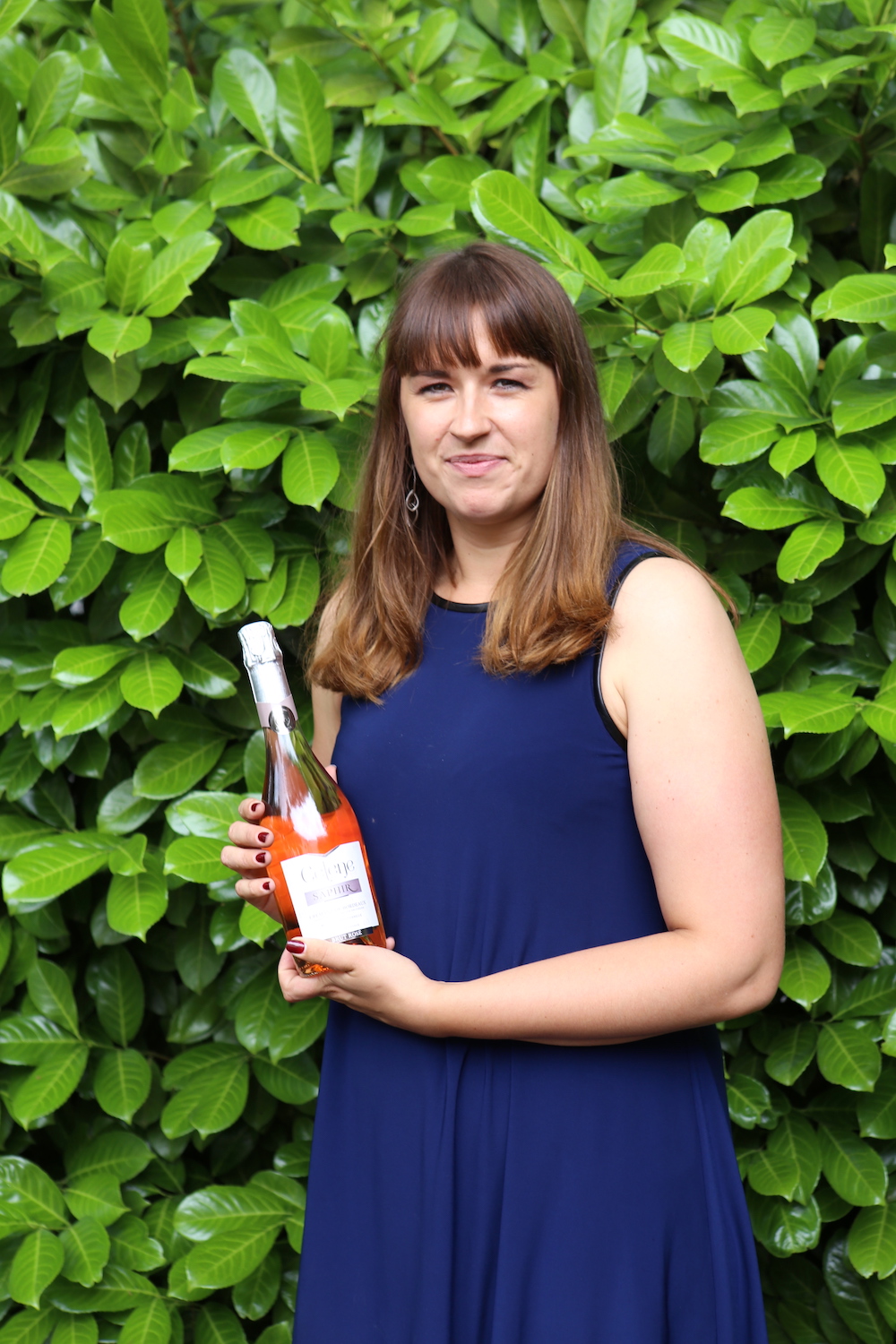 Céline Lannoye is very young the first time she comes to Bordeaux. Her mother has just decided to leave Paris to follow her dream : working in wine business. Céline falls in love for the Bordeaux "nectar", the city she has no intention to leave and is now at the head of the Maison Ballarin/Célène, spécialised in Crémants de Bordeaux. Her Célène « Saphir » rosé was awarded an Oscar des Bordeaux de l'été [in march 2017].
Anne
Céline, how was it moving from Paris to Bordeaux?
I loved it. I was very young but for me, that was just great to live in the middle of the vines, to take part in the harvest, to see how wine is produced. I started thinking and dreaming about wine, studying wine…  
You've gone to Kedge Business School, right?
Yes, I have but I always did my internships in the wine industry. I spent my placement year in the USA, I was working with a wine retailer. And had a job in a cooperative from the South of France. They hired me right after and I stayed there 4 years.
Why did you leave?
I wanted to settle down, to have my own business. Since our family already owned wine estates, I decided to get into something different. I liked Crémants de Bordeaux immediatly. It's a festive product, still little-known and it represents a lot of challenges. This is why I took over the Maison Ballarin / Célène a year and a half ago.
How is Crémant produced?
In december, we receive fermented juice (what we call the base of the Crémant). We get them from the winegrowers we work with and they must respect two specifications: the guidelines of the appelation and our own guidelines. We used the grapes listed below:
•    for whites: Sémillon, some Sauvignon Blanc and Muscadelle ;
•    for rosés: Cabernet Franc and Merlot.
Harvest is very early because we need acidity. Frédéric (my partner), our board and I are in charge of the blending.  It's a lot of work because we try to ensure the continuity of the House style and, on the other hand, we are making different products.
We are trying to think outside the box.  
Once the blending is completed, we bottle and add yeast and sugar. The traditionnal method (once called champagne method) gives the bubbles. The foam creation (the second alcoholic fermentation) is slow and regular, we don't add carbon dioxid and it happens when in bottles, not in vats.
We then put the bottles in the cellar for at least 12 months.  
After this timeframe, we drain the bottles, add some expedition liqueur and wait about 3 months before selling the Crémant so it is gently.
How many time between the harvest and the first shipping? 
At least 18 months.
How many bottles do you produce?
About 1,3 million each year. It's about 1/3 of the Crémant de Bordeaux market.
Who are your customers?
Mainly super and hypersmarkets. The Maison Ballarin had already strong assets. We also sell to Nicolas (n°1 retailer of wine in France in the city center), to cellarmen, to restaurants and 15% of our production is shipped abroad.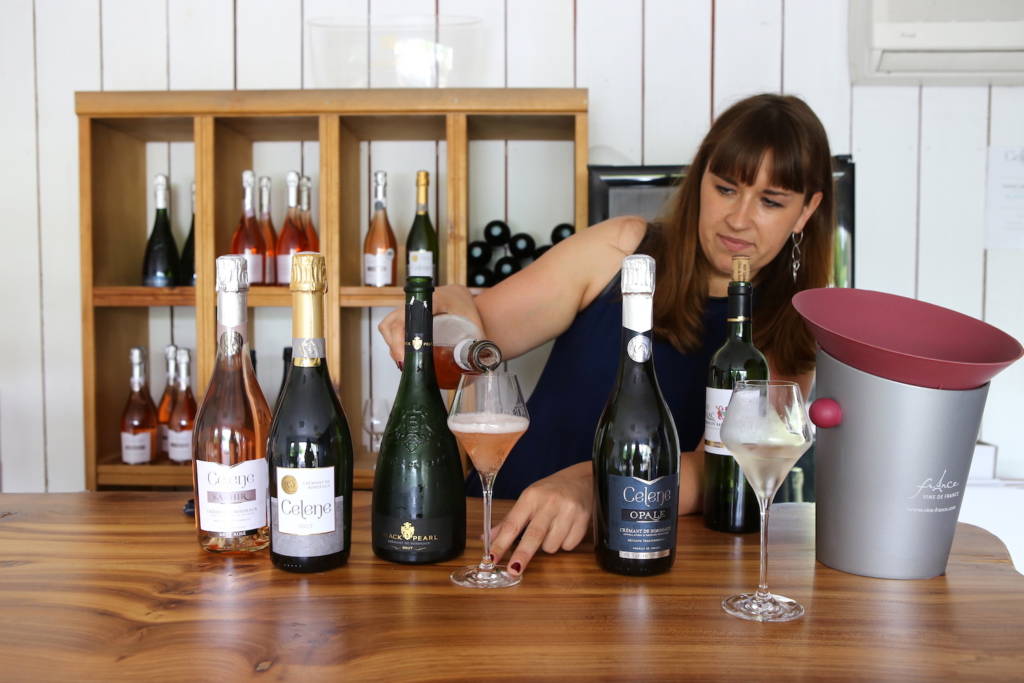 What would you say to somebody who doesn't know Crémant de Bordeaux to make him wants to taste?

Usually, Crémants de Bordeaux are value for money. You have really good products around 7 or 8 euros. Each time I serve our wines, people are surprise by the quality. It is a straight, lively, modern and festive wine.
Ours in particular, is delicate. This is exactly what we want : elegance, subtle aromas and thin bubbles. I guess it's my women's side ☺.
Is a Crémant de Bordeaux very different from another Crémant?

Yes, it is. The terroir expresses itself. We have a wonderful land.
At which temperature do you suggest to drink it?

Chilled, between 7 and 8°C.
What is the perfect food and wine pairing?

White Crémants are delicious with oysters, scallops, seafood risotto (like the one we cooked recently with razor clams and seasonal vegetables). 
For the rosés, a red fruits cheesecake for instance.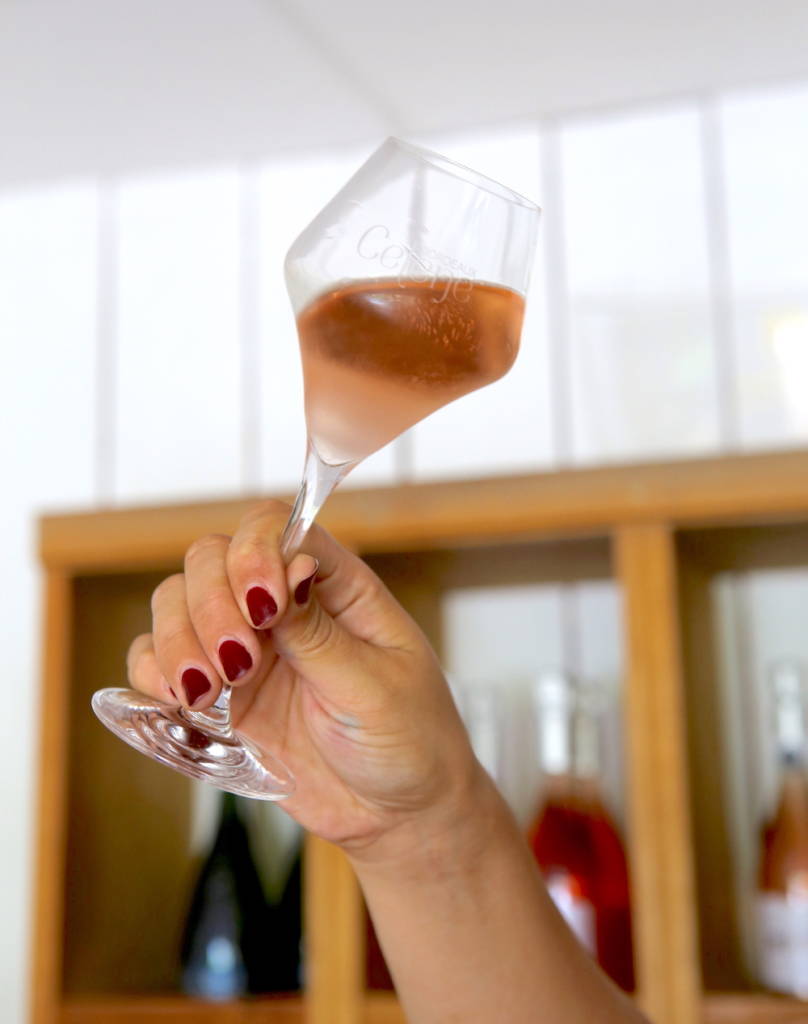 What are your projects?
We are trying to increase the ageing process of our Crémants to 18 months, for an even higher quality.
We would like then to develop winetourism : we are storing our wine in a 3-kilometer tunnel right uner our feet. They are part of the history of Bordeaux because this is where the stones and the lime had been taken to build the city. And before we decided to store the bottles there, it was a mushroom cave. 
Finally, we are restyling our website and intend to communicate through social networks. We took overt he House only one year and a half ago and we still have a lot to do.
Thank you Céline, now a few questions about Bordeaux:
Regarding still wines, do you prefer red wines or white wines?

Red wines
Do you prefer white or rosé Crémants de Bordeaux?

Whites
Arcachon or Cap Ferret ?
I would say Cap Ferret, I think it's still an wild place. But when I'm leaving for the holidays, I rather go to the USA where I still have a lot of connections
When in Bordeaux, would you rather have a lunch at Philippe Etchebest's restaurant or Gordon Ramsay's restaurant?
Philippe Etchebest !
Oysters from Arcachon/Cap Ferret or caviar d'Aquitaine?

J'aime les deux mais j'avoue avoir découvert récemment le caviar d'Aquitaine et ai été bluffée par la qualité des produits proposés. Alors je choisis le caviar.
To conclude, a word which represents Crémant de Bordeaux according to you?
To me, Crémant de Bordeaux represents the party and conviviality. I'm on the terrasse with my friends. I open a bottle. The plancha heats, we pitch some scallops on it and we toast. In other words, happiness!
Thank you Céline!
Enregistrer
Enregistrer
Enregistrer
Enregistrer
Enregistrer
Enregistrer
Enregistrer