Anne Lataillade, famous blogger from Papilles et Pupilles, met Véronique Barthe, a free woman, to discover the Château La Freynelle.

Véronique Barthe has been fronting the Château La Freynelle since 1991, when she did her very first vinification. Her property acounts for 77 hectares and she makes white, red, rosé and clairet wines.
In march 2017, she was awarded "Oscars des Bordeaux de l'été" three times (first time in the history of the competition) : for her Bordeaux blanc, her Bordeaux rosé but also her Bordeaux clairet… Hats off to her !
Let's get to know her better.
Anne
Véronique, your family has been making wine since the French Revolution. When a child, did you wish to take over the property or even think about it ?
Not at all. I moved to the USA right after my baccalauréat. I came back with to ideas : pizza delivery and car washing.  
Anne : Well, that is clearly not the same thing.
Exactly. My mother then advised me to go back to college. I went to Toulouse and got an accounting and management degree, to learn the basics. At that time, mommy told me " since you love new projects, you could help us in the mean time ; there a lot of things to do on the property". 
It got me 😉 That's how I first got a foothold in our family business. I am the first woman at the head of the property.
Are you mainly producing white wine or red wine?
2/3 of the vines are dedicated to red. We have Merlot, Cabernet Sauvignon and Petit Verdot
1/3 is dedicated to white with Muscadelle, white Sauvignon and Sémillon.
We produce about 400 000 bottles each year.
Who are your customers?
I tend to say I sell my wines to « whoever wants some » ☺ ☺ ☺
We dont' have a specific distribution channel even if we are not really into selling to supermarkets and hypermarkets. The reputation enjoyed by Château La Freynelle is not so important. So we chose the traditionnal channel. Most of our wines are sold in America. The USA accounts for about 25%, France only 10%. 
We mainly sell bottles but if needed, we can also sell in bulk. I don't stop myself in order to open up new possibilities.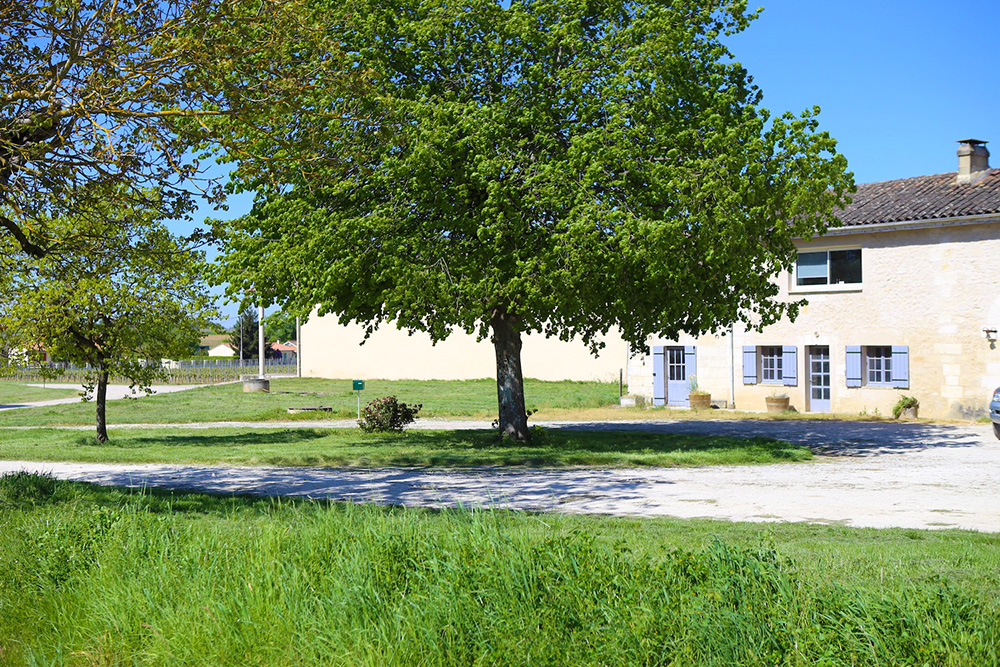 I heard that you were a kind of precursor by using screw lids. What does it change?
Yes, I was. As I said before, I don't stop myself. We often do what others don't. For example, we use 37.5cl bottles. We try to meet the needs of customers. 
I have actually using screw lids for about ten years to first respond to US markets demands. I thought: «  if they want screw lids, I'll sell them screw lids ». They would have asked for square bottles, that would have been the same. Our wines are fresh, fruity, with round tannins, I think it doesn't change their quality.
There is a lot of advantages because it turns it is very easy to open a bottle then, no problem to store it and no cork taste.
Some persons don't like it though and we still use classic corks also. We store both of the bottles. We need a lot of space.

Can we say the profession has changed a lot?

Yes, everything has changed: grape-growing, communication, sales. When my father was managing the Château, we used to sell bulk wine to a wine merchant. Since we have a huge property, I decided we'll have our own cellar and sell bottles. We always have to improve the quality of our wine while controling production costs. Our wines are sold between 6 and 10,50€ a bottle for our most expensive cuvée Emotion (only 8 000 bottles a year).
There is still one thing that will never change : we are dependent on the weather report. Rain, hail, storms, drought…
Do you prefer red or white?

Both. It is impossible to choose between the two of them. It is like asking me if I prefer my son or my daughter.
Rosé or clairet?

Clairet : The range of aromas is much better than the actual trendy light rosé but it has to be said that you can't go backtrack. When people see a clairet, they think it is stronger, more chemical, more everything. 
I say them it is simply better ☺ ☺ ☺ We have a unique product but we struggle to market it.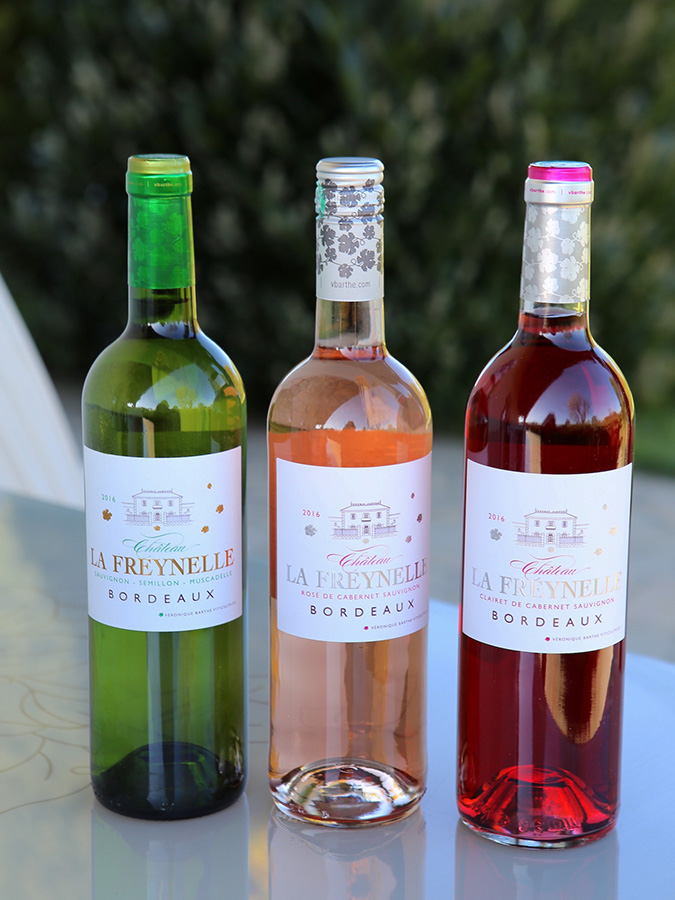 Bottle or bag in box?

Bottle. When people buy a bag in box, it's almost like bulk wine. I do prefer they buy La Freynelle.
Blends or single variety wines?
Blends, especially for whites. It is not interesting making a 100% sauvignon. Our grapes varieties make a happy marriage and so complex wines. However, it's different if you plan to age the wine in a barrel. It's not what I intend to do right now with Château La Freynelle even if I sometimes conduct tests.
Speaking of Bordeaux, would you rather prefer…
The Bassin of Arcahon or Cap Ferret?

Soulac ! I discover the Bassin very late. I like the Ferret but I'm taken with Soulac sur Mer. We owe a family house there and I used to go every summer when a kid. All my cousins also came and it was great.
Shad or lamproie ? Cannelé or dune (a crunchy chou with a light cream inside)?

Véronique can't choose because she loooooooves to eat ☺.
I asked her the places she prefers:
–    Le Caffe cuisine in Branne ! It's delicious and home made. I eat there very often and never have the same meal. Caffe Cuisine – 9 Place du Marché, 33420 Branne.
–    La Cabane 57 in Piraillan. It is a magical place and his owner, Sylvie, is the soul and spirit of this cabane.  Cabane 57 – 40 Rue du Littoral, 33950 Lège-Cap-Ferret.
To conclude, a word which represents wine according to you?

To me, it means conviviality, pleasure, sharing and friendship.
Thnak you Véronique !
Vignobles Barthe – Château La Freynelle – 9 Peyrefus, 33420 Daignac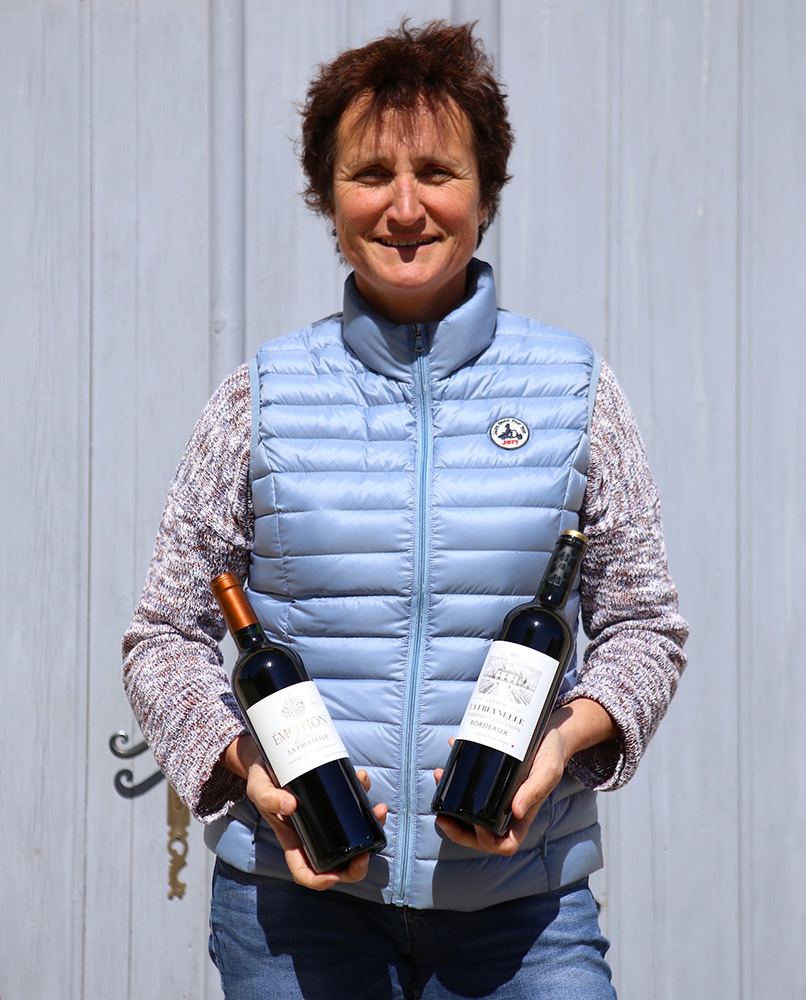 Enregistrer
Enregistrer
Enregistrer
Enregistrer
Enregistrer
Enregistrer
Enregistrer
Enregistrer
Enregistrer